CHICAGO – The Chicago Department of Aviation (CDA) today announced O'Hare and Midway International Airports are expected to be among the busiest airports in the country for Christmas-through-New Year holiday travel. Nearly 5 million passengers are expected over the 19-day travel period, and airlines anticipate that passenger volumes across O'Hare and Midway will be 2.5% higher compared to this season in 2018.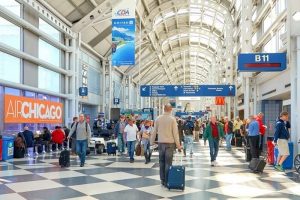 "On behalf of Mayor Lightfoot and the Chicago aviation community, we are excited to be a gateway for holiday travel – and holiday cheer – for so many. CDA and its airline partners are well prepared to provide a safe and efficient experience for millions of travelers during this holiday season," said CDA Commissioner Jamie L. Rhee. "Chicago is always a top holiday destination, and we look forward to bringing our passengers enhanced travel options and services for years to come, as we continue to grow and modernize O'Hare and Midway for the future."
The official holiday travel season kicked off yesterday and continues through Monday, January 6, 2020. Over that period, airlines project more than 3.9 million passengers will travel through O'Hare, while nearly 1 million passengers will pass through Midway. Friday, December 20 is projected to be the busiest travel day at both airports with more than 230,000 passengers at O'Hare and more than 49,000 at Midway. On the back-end of the season, the second busiest day at O'Hare will be Friday, January 3, 2020, while Saturday, January 4, 2020, will be the second busiest at Midway. The holiday travel period will conclude on January 6, 2020.
"As Chicago's residents prepare for the holidays, the City of Chicago is equally preparing for the legalization of recreational cannabis to take effect on January 1," said Chicago Police Interim Superintendent Charlie Beck. "To ensure safe travel for all residents and visitors, we're encouraging all travelers not to bring cannabis through Chicago's airports as it still remains illegal under federal law."
With sales and use of recreational cannabis scheduled to become legal in Illinois on January 1, 2020, travelers are reminded that federal law prohibits cannabis possession in any amount and could affect your passage through the Transportation and Safety Administration (TSA) or Customs and Border Protection (CBP) checkpoints. Transportation of any amount of cannabis remains illegal across state lines, and possession of cannabis may be illegal in the state or country to which you are traveling.
HOLIDAY ACTIVITIES
Both airports are showing holiday spirit, with trees at chicago airport O'Hare that have been decorated by some of Chicago's prominent cultural institutions, including Lurie Children's Hospital, Chicago Symphony Orchestra, and Shedd Aquarium. Also, from now through December 31, the CDA will host live music and other entertainment at both airports. Santa and Mrs. Claus will make an appearance at O'Hare on Monday, December 23, between noon and 2pm, following appearances at Midway earlier in the week.
The United Service Organization (USO) will assist with the annual Military Mass Exodus on Friday, December 20. The USO location at Midway will be open from 6 a.m. to 9 p.m. Staff from the two USO locations at O'Hare will staff tables in Terminals 1,2 and 3 from 8a.m. to 5 p.m. to hand out snacks and information to the military traveling through.
A new family-friendly entertainment, activity, and retail activation called Winter Wonder at O'Hare is in place at Terminal 1 near Gate C11, Terminal 2 Fly with Butch O'Hare Family Lounge, and T3 near Gate K2. throughout the season.
Over the course of 2019, many O'Hare terminal restrooms have been upgraded, to include improved infant care areas; a new Mother's Room in Terminal 3 near Gate L6 and a new family assist restroom, also in Terminal 3 on the H Concourse.
Midway's concessions program is undergoing a complete renovation and expansion as well as part of the Midway Modernization Program (MMP). A total of 23 new restaurant and retail locations have been opened across the concourses with dozens more planned. Additionally, Central Market construction is now underway with barricade walls in front of several retail and restaurant locations. The Midway Central Express Market, featuring hot food offerings as well as a variety of garb & go items such as fresh sushi, tasty parfaits and more, is open to all airport guests. Visit flychicago.com for a map of all dining and retail choices at both airports.
TRAVEL INFORMATION
With both airports continuing to report some of the shortest Transportation Security Administration (TSA) checkpoint wait times in the country, travel through Chicago's airports this holiday season is expected to be smooth and efficient for passengers. Nevertheless, the CDA and the TSA encourage passengers to arrive at the airport two hours before domestic departures and three hours ahead of international departures to ensure adequate time for ticketing, baggage check, security screening and travel to the airline gate.
The TSA also reminds passengers not to bring wrapped gifts through the checkpoints, as they are subject to closer inspection by officers.
In order to help alleviate roadway congestion, travelers are encouraged to use public transportation to get to the airports. Train service on the Chicago Transit Authority (CTA) via the Orange and Blue Lines provides passengers an affordable, efficient route between downtown and the airports, with service offered 24/7.
For passenger pick-up, drivers are reminded it is illegal to stand along airport and surrounding roadways and shoulders. Drivers are encouraged to utilize airport cell phone lots, as well as the convenient hourly parking garages, which allows drivers to park for up to one hour for $2.
Both airports feature ample public parking capacity to serve passengers traveling this year. Midway will feature LED signs directing passengers to access available parking off Cicero Avenue and will also provide shuttle service to move passengers quickly and efficiently to the terminal. The chicago airport O'Hare Multimodal Facility (MMF) expands public parking options at the airport, providing easier access to car rental in a new one-stop-shop facility for O'Hare's rental car providers.
The O'Hare Airport Transit Service (ATS), an automated people mover, remains out of service into the first half of 2020, In the meantime, a full fleet of shuttle buses continues to provide service for travelers between the terminals, satellite parking lots, and to the MMF.
At Midway, active construction on the Midway Modernization Program (MMP) continues inside and around the airport. The TSA now has 15 screening lanes available, including two automated service lanes. Additional signage is in place to help guide travelers to the new location.
Information and updates are available at www.MDWMod.com and www.flychicago.com/midway. Traffic updates are also available on Midway's ParkNet Radio Station (1630 AM) within one-mile radius of airport.
Travelers bound for Chicago's airports this holiday season can make the most informed decisions about how to access any of the above airport services by visiting CDA's Website at www.FlyChicago.com. The Website also contains real-time information on flights, regular updates on traffic and weather, real-time taxicab wait times, and other special alerts for the traveling public.